Jolly Mom
and
Go Graham Go
are hosting are hosting a blog party title "
Mom Time In '09
"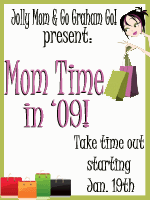 They are asking the question, "What is it that you do to take time for yourself?"
If anyone is looking for a long a deep answer form me, I am about to disappoint. My answer is a simple one, I take time out to read. Yes, I do blog and that too is a lot of fun and I enjoy making new bloggy friends. However,
me time
is spent in quiet solitude with a good book, my cat (although she thinks I am her kitten so she is tad confused) and my favourite quilt.
Check out
Jolly Mom
and
Go Graham Go
and their blog party,"
Mom Time In '09
"