As I welcome in the New Year, I decided to look back and reflect on the previous year, thanks to
Mama's Losin' It
and her writing prompts.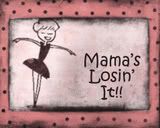 10. My SIL was able to move into her own apartment. The twins miss here living here, but it was for the best. She has since moved to another state, which made us all sad, yet everything happens for a reason.

9. Our house remodeling/decorating advanced further than I anticipated, including new baseboards and inside doors.

8. My oldest learned to drive!

7. My bathroom was completely remodeled, and this was sorely needed.

6. We de-cluttered the entire house and found numerous items we were not using or wearing that were perfectly acceptable to donate.

5. Making new blogland friends.

4. I was able to read more books than I can recall, which reminds me I need to start keeping a list.

3. We donated more to charities than in the previous years and I am about to look into increasing our donations in 2009. This is trickier than it sounds. There are so many charities I am passionate about, selecting from my list really will take a large part of the day.

2. We were fortunate to have not only have my in-laws visit over Christmas, but also to share with them in celebrating their 50th Wedding Anniversary.

1. I did not have a stroke in 2008!!! YAY me!
May you and yours have a happy and healthy New Year!