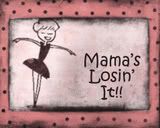 I chose (foolishly it would appear) prompt #2
Ask a loved one to use 6 descriptive words to describe you and report your findings. How well do they know you?
I asked DH. Had I not been slammed with a head cold I
may
have thought to ask him last night to give him time to think of answers, as he is one who needs to carefully think things through. I
know
this, yet proceeded to question him as he was trying to get out the door for work (that will teach me).
The love of my life replied with the following:
Loyal
(which is how most people describe their pets, but I will take it, for I
am
rather loyal to family and friends)
Strong-Willed
(I am still trying to figure out how he meant this in a good way)
Stubborn
(again see above)
Loving
(he sounded
thrilled
he came up with a positive word)
at this point there was a long, long pause....
Regimented
(great now I am ready for the military. However, I may spin this to mean I run a well organised house)
Compassionate
(at this point he is almost out the door and pulling words out of thin air. I
am
compassionate, but I wanted
his
take on it)
So, foolishly, I asked him as he was almost out the door how compassionate fit into the other descriptive words he had already used.
His response? "Well you care about others". Deep thought
obviously
was not going to happen this morning.
So he countered with:
Challenging
(well, that makes
everything
better now, *sigh*)
I asked in what way being strong-willed and stubborn were good traits. (I must note that at this point he was halfway out the door).
Once again, lacking deep thought he replied, "they
can
be good things". Seeing my face he added, "You do not back down to reason from your husband".
I am going to
assume
he meant well, yet was in a rush . Okay he
was
in a rush, as he has a lecture to give, so there is hope he will eventually see the error of his ways.
I would ask my darling children how they would describe me, however, being teens, they tend to not arrive home the happiest of campers. Especially after a long day at school and a nice 5 mile run in below freezing weather. So, I shall stick with the above and
hope
that at some time during the day, DH will phone with more thought out answers.
In case no one guessed, my sweet husband does not handle spontaneity well. I know this and should have asked him the question last night so he could mull over his answers, as is his way.
To see more writing prompts and read what others are writing about visit
Mama's Losin' It
.