As most of my sweet, patient readers know, I am laid up due to surgery and I am
not
supposed to be online. I am in
theory
supposed to be resting. Unfortunately it is
difficult
when the pain keeps me awake. I tried to start visiting all of your blogs (
I am so behind on reading I am ashamed
)only to discover the pain medication makes the words all blurry and makes typing darn tricky. Please continue to have patience with me.
I have to get better, right
?
5 Minutes For Mom

to the rescue!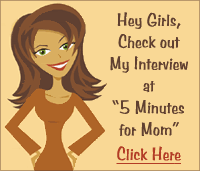 5 Minutes For Mom
posted an interview with me that I thought I would share with my readers, since I really am supposed to be resting. *
sob
* The interview is
HERE
!
I miss each and every one of you and I continue to pray that I will be back up to speed with my blog and my blog reading in no time. Again, I would like to thank all of you for your continued patience, love, and support.
P.S. I go back to the dentist again in a few hours. Keep those prayers and positive thoughts headed this way. Hugs!