****Less Thank 2 Days Remaining! Please check out my Bazil Essentials Giveaway!****
It is time once again for
Totally Talented Tuesday
!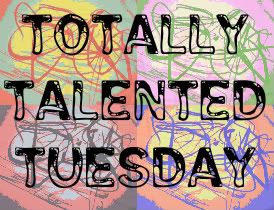 Today's artist is my oldest son. He wanted to paint his room, which he had previously
never
requested to do. So we said sure. He looked at paint chips (
there were a lot!
). I kept my mouth shut (
which was not easy
) as I saw his colour selections. He finally narrowed the choices down and informed his father and me that he was going to paint stripes on one of his walls. He drew a schematic and here are the results.
Please excuse my lack of photography skills. It is a
long
wall and I could not capture it in one shot. I think DS#1 did an
awesome
job considering it was his first time painting and he
refused
any and all assistance and suggestions.
Please visit
Two of A Kind Working On A Full House
to join in the fun!
****Please check out my Bazil Essentials Giveaway ****