The Prompts and the answers:
1.)
If you were starring on American Idol TONIGHT and HAD to sing, what song would you choose and why.
Since I cannot carry a tune to save myself, it really would not matter what song I chose. Yet, you said we had to choose so I would say,
My Funny Valentine
, since it was the first song title to pop into my head.
2.)
Take a picture of yourself right this minute without primping and explain to us why it is you have not washed your hair today.

So NOT happening since I am in bed. However, I am having surgery in the morning, so I am saving the primping for the morning. Surely I am not the only one who shaves her legs before surgery.
3.)
I just asked Pat to help me with a writing prompt so here's his: "What do you think about the NBA All Star game"...blech.
Sine I do not watch basketball I have nothing intelligent to say on the topic.
4.)
What's your number one pet peeve? Develop a punishment for anyone caught in the act.

This was far more difficult then I thought it would be as I have numerous pet peeves. My number one pet peeve is when someone eats with their mouth open. The punishment? Etiquette classes.
5.)
Write about something mean you did to a sibling growing up.

Absolutely nothing If I had done anything to my baby brother my mother would have smacked me across the room.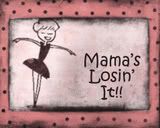 To see more writing prompts and read what others are writing about visit
Mama's Losin' It
.