**Please check out my newest contest! Twisted Silver is offering one lucky reader a bracelet set to be released the day the contest ends! So enter anytime through 11:00PM EDT on 3/31!**
The Prompts and the answers:
3.) What are you putting off right now?
This is timely, so much so, I was
not
going to blog and
apparently
I cannot handle not blogging,
which is a tad disturbing
.
I am putting off reading some excellent books for reviews, so watch for them in the coming weeks!
I am putting off making preparations for the twins' Confirmations.
I am putting off decorating or even planning for Easter.
Finally I am putting off making any plans for Spring Break, which begins after school today.
Obviously I need a plan. We all have the same hours in a day and I do not appear to be using mine wisely? If I am not on here much it is because I am enjoy Spring Break with my boys and hopefully fitting in the other items I have listed. I also need to discover why I would feel guilty for taking time off from blogging.
Please take a minute or two out to check out the AWESOME Twisted Silver Giveaway I have on my site. Their jewelry is the best I have ever seen or worn.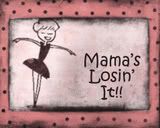 To see more writing prompts and read what others are writing about visit
Mama's Losin' It
.
**Please check out my newest contest! Twisted Silver is offering one lucky reader a bracelet set to be released the day the contest ends! So enter anytime through 11:00PM EDT on 3/31!**