The Prompts and the answers:
1.)
Write a limerick.
Oh dear. Is it wrong that only bad ones popped into my head? No Limerick writing for me.
2.)
Normal is...
I believe "normal" changes with one's circumstances. Normal is being able to chew solid foods. I realise this is not a profound thought by any means. However, when one's mouth is dreadfully traumatised it is very difficult to focus on anything else. As soon as I am able to chew food again, I will be once again have a different definition of "normal".
3.)
Describe a memorable camping experience.
I could make something up I suppose; however, since I have never camped in life I would not know what I was talking about.
4.)
What's the best thing that has happened this week?
Finally, an easy one! The best thing that happened to me this week was being able to make it through the days without pain medication, which means progress!
5.)
Did you have a childhood hideout? Where? Describe it.
Each week I learn just how dull my life has been. I am sorry, I have nothing.
6.)
Words that hurt me.
There are indeed too many. If it is a word you would not use to describe yourself in a positive light, it would probably hurt me.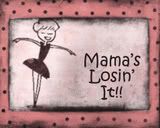 To see more writing prompts and read what others are writing about visit
Mama's Losin' It
.