This is Jen's PDH writing tonight. Oh yeah me. (KEY: P = Poor)

The Prompts and the answers:
1.) If I sent you four hundred dollars today what is ONE thing you would spend it on and why. ps I want my change.
I would find a couch, yes, I believe I can find one for that cheap. It may fluoresce under black light from prior "oopsee daisies", but it might have enough cushion and lumbar support to keep DW's back comfortable while she is doing all this Internet stuff. No change - I'll splurge for the tax on this fine $399.99 luxury item.
2.) What are your kids talking about?
Do kids still talk? I thought they only "text". When they aren't fighting with each other, they are texting friends. When they do talk to us, we get to hear how everything we decide for them is not fair, fun, or cool. The teens years are so exciting!
3.) Tell us about a local news story that's all the buzz right now in your neck of the woods.
School tax levy not passing last Nov, blah blah blah, no more money from state, blah blah blah, better vote for levy this time, blah blah blah, or schools will suck. We voted in favor before, but all this blah blah blah may make me change my mind.
4.) Share some blogging advice.

B.A.R.E. - Blog Awareness and Resistance Education
Just say "NO"!
5.) Tell us about that time at the playground when that thing happened.

What? I'm too old to remember "that thing".
I want to now thank DW for giving me this opportunity to share my thoughts with her blogosphere. Without her constant love and support, I would be constantly AFK and WBP. (KEY: WBP = Without Blog Presence)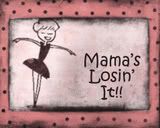 To see more writing prompts and read what others are writing about visit
Mama's Losin' It
.