The Prompts and the answers:
1.) Describe a moment when you realized you and your spouse were SO different.
After 20 years I honestly cannot think of one. We are eerily very similar.
2.) What is your role in the household?
I am the mom and wife. I organise schedules, deal with problems, clean up after everyone, I am the enforcer, policy maker, organiser, scheduler, and nurse.
3.) Write about how you felt when you discovered you were lied to.
I cannot think of a time. I do know that I do not lie and have a very, very low tolerance to those who do.
4.) Describe a hard time you gave a teacher...what would you say to them today?

I never did this. I was a one of those annoyingly perfect student.
5.) What is an unpleasant experience you had eating? Write a poem, paragraph, or something else about the experience.

Friends of ours are from China and they made a huge feast. The appetiser was rather unpleasant. It would not go down. I do not DH and I kept our faces neutral. It was not an unpleasant taste, rather an unpleasant texture and just would not go down! Fortunately the rest of the meal was am absolute delight!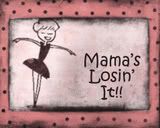 To see more writing prompts and read what others are writing about visit
Mama's Losin' It
.