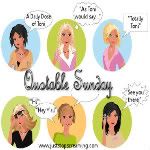 Yesterday I asked myself a rhetorical question and I have the answer, at least for me:
"
The responsibility of tolerance lies in those who have the wider vision
."
~ George Eliot
"
If you believe in what you are doing, then let nothing hold you up in your work. Much of the best work of the world has been done against seeming impossibilities. The thing is to get the work done
."
~ Dale Carnegie
"
If you treat an individual as if he were what he ought to be and could be, he will become what he ought to be and could be
."
~ Johann Wolfgang von Goethe
"
Be not afraid of going slowly; be afraid only of standing still
."
~ Chinese Proverb
"
You can't do anything about the length of your life, but you can do something about its width and depth
."
~ Shira Tehrani
"
There is no one else who can ever fill your role in the same way, so it's a good idea to perform it as well as possible
."
~ Humphrey Osmond
"
It's faith in something and enthusiasm for something that makes life worth living
."
~ Oliver Wendell Holmes, Jr.
"
We are what we repeatedly do. Excellence, then, is not an act, but a habit
."
~ Aristotle
"
Self-love is the only weight-loss aid that really works in the long run
."
~ Jenny Craig
"
Energy creates energy. It is by spending oneself that one becomes rich
."
~ Sarah Bernhardt
"
I, not events, have the power to make me happy or unhappy today. I can choose which it shall be
."
~ Groucho Marx
"
Every day is a new beginning. Learn the skill of forgetting and move on.
."
~ Norman Vincent Peale
To join in the fun or to see what other topics are being quoted visit
A Daily Dose of Toni