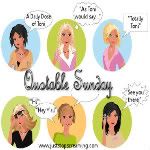 Living!
"
The way to gain a good reputation is to endeavor to be what you desire to appear
."
~ Socrates
"
It is a mistake to try to look too far ahead. The chain of destiny can only be grasped one link at a time
."
~ Winston Churchill
"
Behold the turtle. He makes progress only when he sticks his neck out
."
~ James Bryant Conant
"
Don't be fooled by the calendar. There are only as many days in the year as you make use of
."
~ Charles Richards
"
To accomplish great things, we must not only act, but also dream; not only plan, but also believe
."
~ Anatole France< "
The best years of your life are the ones in which you decide your problems are your own. You do not blame them on your mother, the ecology, or the president. You realize that you control your own destiny
!"
~ Albert Ellis
"
Adversity and loss make a man wise
."
~ Welsh Proverb
"
Society can only be happy and free in proportion as it is virtuous
."
~ Mary Wollstonecraft
"
Never regret. If it's good, it's wonderful. If it's bad, it's experience
."
~ Victoria Holt
"
The best antidote I have found is to yearn for something. As long as you yearn, you can't congeal: There is a forward motion to yearning
."
~ Gail Godwin
My favourite Quote:
"
The true measure of an individual is how he treats a person who can do him no good
."
~ Ann Landers
To join in the fun or to see what other topics are being quoted visit
A Daily Dose of Toni