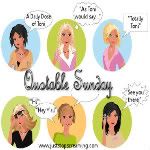 A few of my favourite motivational quotes
"
"Hope begins in the dark, the stubborn hope that if you just show up and try to do the right thing, the dawn will come. You wait and watch and work: you don't give up
."
~ Anne Lamott
"
It still holds true that man is most uniquely human when he turn obstacles into opportunities
."
~ Eric Hoffer
"
Inaction breeds doubt and fear. Action breeds confidence and courage. If you want to conquer fear, do not sit home and think about it. Go out and get busy.
."
~ Dale Carnegie
"
When we can begin to take our failures nonseriously, it means we are ceasing to be afraid of them. It is of immense importance to learn to laugh at ourselves
."
~ Katherine Mansfield
"
You must be careful how you walk and where you go, for there are those following you who will set their feet where yours are set
."
~ Robert E. Lee
"
In matters of style, swim with the current; in matters of principle, stand like a rock
."
~ Thomas Jefferson
"
Your vision will become clear only when you look into your heart. Who looks outside, dreams. Who looks inside, awakens
."
~ Carl Jung
"
We have to fight them daily, like fleas, those many small worries about the morrow, for they sap our energies
."
~ Etty Hillesum
My favourite Quote:
"
Nature gave us one tongue and two ears so we could hear twice as much as we speak
."
~ Epictetus
To join in the fun or to see what other topics are being quoted visit
A Daily Dose of Toni