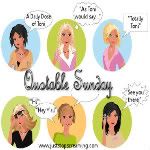 I could not decide, so a bit of everything!
"
"Have the courage to follow your heart and intuition. They somehow already know what you truly want to become. Everything else is secondary
."
~ Steve Jobs
"
They always say time changes things, but you actually have to change them yourself
."
~ Andy Warhol
"
Happiness is different from pleasure. Happiness has something to do with struggling and enduring and accomplishing
."
~ George Sheehan
"
Give to us clear vision that we may know where to stand and what to stand for--because unless we stand for something, we shall fall for anything
."
~ Peter Marshall
"
The thing that is really hard, and really amazing, is giving up on being perfect and beginning the work of becoming yourself
."
~ Anna Quindlen
"
Don't be afraid to give your best at what seemingly are small jobs. Every time you conquer one it makes you that much stronger. If you do the little jobs well, the big ones will tend to take care of themselves
."
~ Dale Carnegie
"
You're only given a little spark of madness. You mustn't lose it
."
~ Robin Williams
"
Holding onto anger is like grasping a hot coal with the intention of throwing it at someone else. You are the one who gets burned
."
~ Buddha
"
Use what talents you possess: the woods would be very silent if no birds sang there except those that sang best
."
~ Henry Van Dyke
My favourite Quote:
"
Never look down on anybody unless you are helping him up
."
~ Jesse Jackson
To join in the fun or to see what other topics are being quoted visit
A Daily Dose of Toni