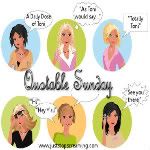 A few of my favourite quotes on living
"
" People usually fail when they are on the verge of success. So give as much care to the end as to the beginning
."
~ Lao-Tzu
"
What we must decide is perhaps how we are valuable, rather than how valuable we are
."
~ F.Scott Fitzgerald
"
The doors we open and close each day decide the lives we live
."
~ Flora Whittemore
"
Failure seldom stops you. What stops you is the fear of failure
."
~ Jack Lemmon
"
Sometimes your joy is the source of your smile, but sometimes your smile can be the source of your joy
."
~ Thich Nhat Hanh
"
I have an irrepressible desire to live till I can be assured that the world is a little better for my having lived in it
."
~ Abraham Lincoln
"
To accomplish great things, we must not only act, but also dream, not only plan, but also believe
."
~ Anatole France
"
Perseverance is a great element of success. If you only knock long enough and loud enough at the gate, you are sure to wake up somebody
."
~ Henry Wadsworth Longfellow
My favourite Quote:
"
Instead of comparing our lot with that of those who are more fortunate than we are, we should compare it with the lot of the great majority of our fellow men. It then appears that we are among the privileged
."
~ Helen Keller
To join in the fun or to see what other topics are being quoted visit
A Daily Dose of Toni