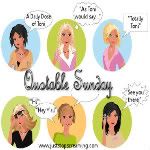 I could not decide, so a bit of everything!
"
If you haven't forgiven yourself something, how can you forgive others
?"
~ Dolores Huerta
"
First say to yourself what you would be, then do what you have to do
."
~ Epictetus
"
It takes as much energy to wish as it does to plan
."
~ Eleanor Roosevelt
"
When the heart speaks, the mind finds it indecent to object
."
~ Milan Kundera
"
Love is an act of endless forgiveness, a tender look which becomes a habit
."
~ Peter Ustinov
"
Sometimes you look at a person and see a cynical snake. Someone else sees a joyful lover. You're both right
!"
~ Rumi
"
When you encounter difficulties and contradictions, do not try to break them, but bend them with gentleness and time
."
~ St. Francis De Sales
"
And then the day came, when the risk to remain tight in a bud was more painful than the risk it took to blossom
."
~ Anais Nin
"
The thing always happens that you really believe in; and the belief in a thing makes it happen
."
~ Frank Lloyd Wright
"
We strain to renew our capacity for wonder, to shock ourselves into astonishment once again
."
~ Shana Alexander
My favourite Quote:
"
Be who you are and say what you feel, because those who mind don't matter and those who matter don't mind
."
~ Theodore Seuss Giesel
To join in the fun or to see what other topics are being quoted visit
A Daily Dose of Toni