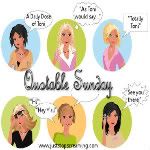 My theme this week is Books!
"
A truly good book teaches me better than to read it. I must soon lay it down, and commence living on its hint. What I began by reading, I must finish by acting.
."
~ Henry David Thoreau
"
There is no friend as loyal as a book
."
~ Ernest Hemingway
"
There are perhaps no days of our childhood we lived so fully as those we spent with a favorite book
."
~ Marcel Proust
"
You can never get a cup of tea large enough or a book long enough to suit me
."
~ C.S. Lewis
"
You know you've read a good book when you turn the last page and feel a little as if you have lost a friend
."
~ Paul Sweeney
"
A good library is a palace where the lofty spirits of all nations and generations meet
."
~ Samuel Niger
"
I cannot live without books
."
~ Thomas Jefferson
"
It is with the reading of books the same as with looking at pictures; one must, without doubt, without hesitations, with assurance, admire what is beautiful
."
~ Vincent van Gogh
"
Only in books has mankind known perfect truth, love and beauty
."
~ George Bernard Shaw
My favourite Quote:
"
A room without books is like a body without a soul
."
~ Cicero
To join in the fun or to see what other topics are being quoted visit
A Daily Dose of Toni